Rita listened carefully to understand our goals and our culture, and was sensitive to our markets and budgets. We worked with her team more as partners than as an 'outside firm.' We were delighted with the results and with the follow through, including keeping us apprised of details, progress and successes along the way.
Helen Cherullo
Executive Director
Braided River
Seattle, WA
Client media coverage:
WVIZ 90.3 FM Cleveland
KING5 Evening Magazine
photo credit:
Great Lakes Science Center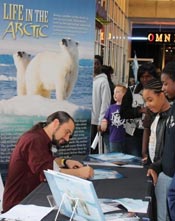 To The Arctic. An extraordinary journey to the top of the world, To The Arctic is the title of a new IMAX® adventure documentary and its companion photography book. The film, distributed by Warner Bros and IMAX, is narrated by Meryl Streep with songs by Paul MacCartney. The book, by award-winning photographer Florian Schulz and published by Braided River, combines remarkable photos of this region's wildlife and stunning landscapes with candid field notes.
Working closely with publisher Braided River and film-makers MacGillivray Freeman Films, we pitched radio, TV, print and electronic media around the country when the film first opened. In three weeks, Florian appeared on eight TV shows, two National Public Radio affiliate stations, and six commercial radio stations. A Voice of America television feature was offered to 1,200 stations worldwide in 44 languages. View clip.