It's our best 1st quarter in the last decade! We appreciate all of your hard work in producing a quality marketing product and website that we are thrilled to have...Things are really paying off!
Rob Ettinger
Conference Coordinator
Dumas Bay Centre
Federal Way, WA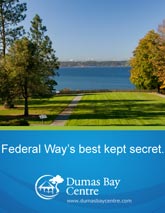 Dumas Bay Centre. This conference center, managed by the City of Federal Way, boasts spectacular views, reasonable rates and loyal clientele, yet an out-of-date website and inadequate marketing materials were holding it back. There was even a proposal to close the facility. Our team was hired to improve bookings, increase awareness and spark new revenue.
Our strategic plan set the overall direction, focusing on two key audiences: weddings and business meetings. A new logo conveys the Center's comfortable ambience and stunning setting, and a range of engaging marketing materials (brochure, postcards, rental kit materials) helped reach new audiences. A redesigned website pairs high-quality photos and panoramic videos with friendly content, including favorite recipes from Dumas Bay's popular chef. In the first quarter 2012, rentals increased by nearly 50 percent over the same 2011 period, achieving what the city's finance director called a "tremendous turn-around."