There's a world of difference
I founded Cipalla Communications as a way to provide fresh, honest and creative content for my clients.
Trained as a journalist, I wrote for the Smithsonian News Service for a decade, and contributed feature stories to Air & Space/Smithsonian, History News, Antiques & Collectibles, and American Education magazines, among others. My work has appeared in Los Angeles Times, New York Daily News, Omaha World-Herald,  Chicago Tribune, Salt Lake City-Deseret News, St. Louis Post-Dispatch, Seattle Times, Houston Chronicle, and Orlando Sentinel, to name a few.
I was director of communications at the Smithsonian's National Air and Space Museum in Washington, D.C., where I honed my skills in marketing, media relations and community outreach. There I planned press conferences for the White House and U.S. State Department, and worked with the media to promote visits by dignitaries, heads of state, celebrities and movie stars.
In Seattle, I opened Cipalla Communications as a way to offer thoughtful, personalized and creative tactics to a wide range of clients.  Learn more about Cipalla Communications.
T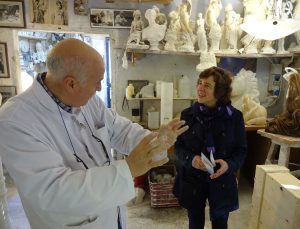 ravel infuses my world and my writing. As Northwest correspondent for L'Italo-Americano, an Italian-American newspaper published in Los Angeles, I write features on culture and travel as well as profiles of artists, authors and business owners who are Italians or Italian-Americans. Regular trips to Italy help me uncover hidden gems, whether it's a small town, regional museum or a skilled alabaster artist in Volterra.